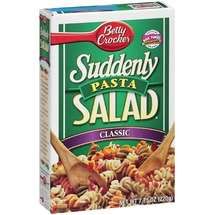 Dear Suddenly Pasta Salad:
I know I didn't stop at the Target to actually buy you--but there you were, on the shelf, at a dastardly reasonable price. I remembered how delicious you were. I was delighted to find that you were of the "Classic" variety, not that awful Bacon Cheddar or so-so Ceasar. Classic variety, you are my soulmate in the pasta salad aisle.
I brought you home. I cooked you up. I then proceeded to eat almost every single last pasta morsel you contained. I disregarded the fact that you had 4 servings at 240 calories each. Plus you just tasted so good with that 20 ounce bottle of coke I also brought home.
Well, Suddenly Pasta Salad Classic. I realized today, you have hurt me. I'm trying to lose weight here, but yet you cannot put off your pasta charm. You and your friend coke conspired against me.
We can't keep meeting like this anymore. We just can't be friends. I think it best that we just try to avoid each other from this point forward. No more dinnertime rendevous. I'm sorry that it has to end like this after so many good times.
Your's truly,
Samantha